Samsung is set to launch the Galaxy S23 lineup, which likely includes the Ultra variant, on February 1 and there are sources saying you can start to pre-order it on that same day.
According to a screenshot shared by Snoopy Tech on Twitter, a retailer for the company shared the detail on its site. In addition to being able to pre-order the Samsung Galaxy S23 Ultra on February 1, you are also eligible for a Galaxy Buds 2 Pro.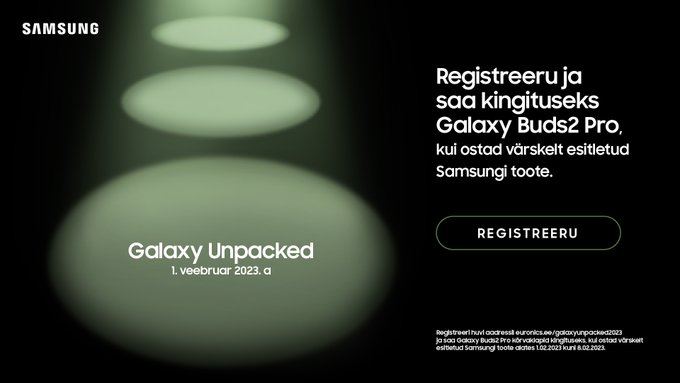 The pre-order closes on the 8, seven days after, given customers a limited time to be the first to get hold of Samsung's 2023 top-of-the-line smartphone series.
Also read:
–Cryptocurrency Assets Start 2023 Strong | See Bitcoin, Ethereum, Solana Price
–Nigerian Agritech Startup Releaf Raises $3.3 million In Pre-Series A Round
–Apple Begins Hiring In India As It Prepares For First Physical Stores.
However, before the leak, we read some reports that said that the pre-order will begin on February 2, a day after the first Galaxy Unpacked event of the year. For now, there isn't that much official info about the smartphone as Samsung has not confirmed anything.
Regardless, GSMArena said that the Samsung Galaxy S23 Ultra would launch with Android 13, a glass enclosure and aluminum frame. It is expected to be powered by Qualcomm SM8550-AC Snapdragon 8 Gen 2 chipset and offer up to 1TB of storage and 12GB RAM. Also, it will use a quad rear camera setup with a 200MP main shooter, 10MP 230mm periscope telephoto lens, 10MP 70mm telephoto sensor, and a 12MP ultrawide camera. Its selfie cam would be a 40MP shooter.
See also: https://www.plat4om.com/samsung-galaxy-s23-plus-4700mah-battery/
Some images of the series appear to have leaked but sources said those were fake.
For your daily dose of tech, lifestyle, and trending content, make sure to follow Plat4om on Twitter @Plat4omLive, on Instagram @Plat4om, on LinkedIn at Plat4om, and on Facebook at Plat4om. You can also email us at info@plat4om.com and join our channel on Telegram at Plat4om. Finally, don't forget to subscribe to OUR YOUTUBE CHANNEL.