Nigerians on Twitter are reacting to photos of Davido and Instagram model Mya Yafai kissing.
Earlier this month, singer Davido was linked with American model Mya Yafai. The singer was seen arriving at an event at the Caribbean islands holding hands with Yafai. This sparked off series of reactions causing the singer to trend on the internet for over 24hrs.
Recently, a photo of Davido and Mya Yafai locking lips surfaced on the internet. The two took the photos while attending a party in the united states together.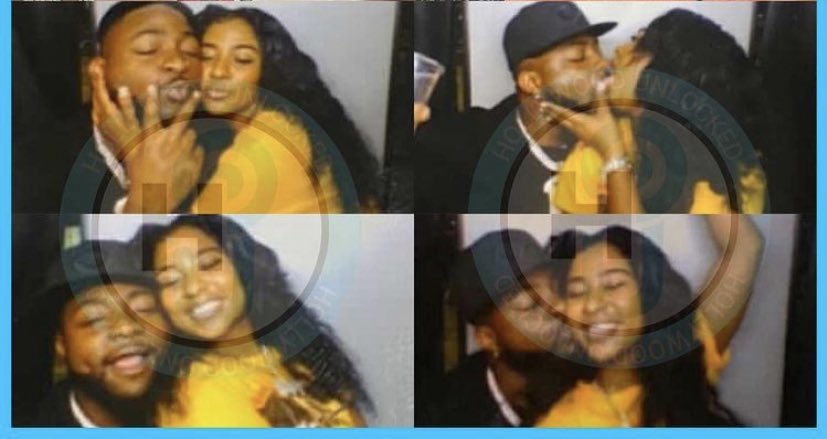 As expected, Nigerians are having several dissenting reactions to the photos. For some, the photos are a confirmation of Davido's alleged relationship with Mya Yafai. Many have also expressed disappointment in Davido, wondering what happened to his relationship with his fiancee, Chioma Avril with whom he has a son.
See some of the reactions below
These celebrities don't know their influence on people. See the way Davido is cheating on Chioma openly. Now Davido fans will start seeing cheating as normal thing.

— Salman👑 (@NotJustSalmanPR) March 30, 2021
Mya definitely did a background check and knew Davido was engaged to Chioma but still accepted his advances, so much for women supporting women! 🤦🏽‍♂️

— Prom Prom🌚 (@effizzzyy) March 30, 2021
Before you judge Davido of cheating on Chioma make sure you're innocent…

It's either you must have cheated on your partner or on God or on your friends or even cheated on yourself. Everybody is a cheat except a few of us.

— Osas BigEngine (@Osas_BigEngine) March 30, 2021
Davido can't cheat on Chioma. Those pictures are from his upcoming music video, Yoruba men don't cheat!

— Omoniyi Israel (@OMOlSSY) March 30, 2021
Davido is not yet married to Chioma so he didn't break any marital vows…y'all rest!

— BIG DADDY (@bigdaddyvinz) March 30, 2021
Because Davido sang Assurance for Chioma that time, na thier relationship make sense pass, do u still want it now? No go dey build ur life with Saka ur destined husband pic.twitter.com/2nckfqeIf3

— Baller G ♚ (@spunky_niga) March 30, 2021
Davido and Chioma are still together, the pictures online may not be what you people think it's. Better not to side anyone, till we have complete story.

Chioma Online in-laws should REST.

— Esv. Adeshewa (@SewaHerself) March 30, 2021
So Mya Yafai saw that Davido was engaged to Chioma and still thought it okay to move to him? Man women are really women's worst enemies.

— Neymar PR (@Bagofnuts_) March 30, 2021
So make we dey wait for the water wey go carry Davido go.

"If I ever leave o, make water carry me go faraway"😂
He carry Chioma handicap! pic.twitter.com/bFbLNpqW8G

— Holuwartomiwah🦍❤ (@moneydeyfindme) March 30, 2021
In 2018, Davido, 29, released his hit single "Assurance" which he wrote to Chioma, confirming their relationship. They went on to have a very much publicised relationship and Davido proposed in 2019. Meanwhile, in an interview with Ebuka Obi-Uchendu, Davido revealed he had been in a relationship with Chioma for seven years. He also said they planned to get married in 2020 but the pandemic halted all wedding plans. They both share a 1-year-old son, Ifeanyi Adeleke.
For your daily dose of tech, lifestyle, and trending content, make sure to follow Plat4om on Twitter @Plat4omLive, on Instagram @Plat4om, on LinkedIn at Plat4om, and on Facebook at Plat4om. You can also email us at info@plat4om.com and join our channel on Telegram at Plat4om. Finally, don't forget to subscribe to our YouTube channel HERE<