Embattled American Rapper, Kanye West has announced his plan to run for president of the United States in 2024,
and in a shocking move he has asked former president Donald Trump to be his running mate.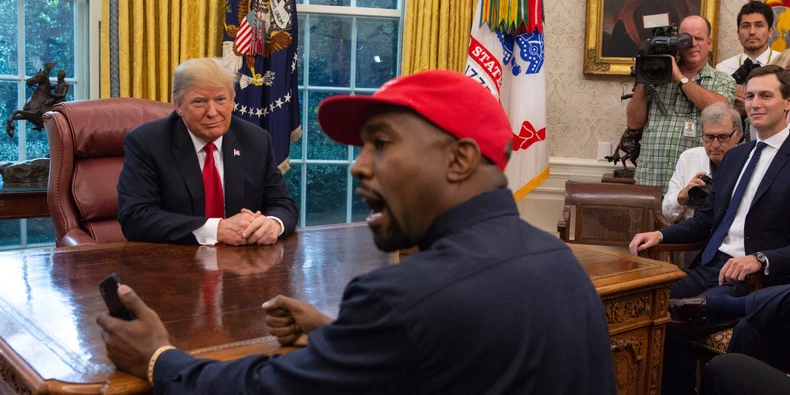 This was made known to the public when Reporters asked the rapper-singer in a recent video if he'll run for office again. Ye responded yes to this.
"It's simple…. It's just we're moving toward the future," he replied.
Pointing to political figure Milo Yiannopoulos, who was also in the video, the rapper and business tycoon said, "This is Milo right here, working on the campaign.
Since this revelation, West has been keeping people in the loop about his bid.
On Wednesday, November 23, 2022, the musician revealed that he had met with former president Donald Trump to discuss the forthcoming elections Taking to Twitter, he wrote:
"First time at Mar-a-Lago. Rain and traffic can't believe I kept President Trump waiting. And I had on jeans. Yikes."
Posting up a poll for his fans, he added: "What you guys think his response was when I asked him to be my running mate in 2024?"
Meanwhile this is the second time that Kanye West will be running for the US presidential seat. The first time was in 2020, under the infamous "Birthday Party" which was eventually unsuccessful
The rapper had also openly backed Trump before his run for president and went to the White House while donning his notorious "Make America Great Again" cap.
The former president recently described the rapper as "acting too wild," so it's uncertain what kind of response to expect from him.
Meanwhile In the wake of the rapper's most recent anti-Semitic outbursts and public meltdowns, the former president, who had previously boasted that West was a lifelong friend of his, criticized their friendship.
For your daily dose of tech, lifestyle, and trending content, make sure to follow Plat4om on Twitter @Plat4omLive, on Instagram @Plat4om, on LinkedIn at Plat4om, and on Facebook at Plat4om. You can also email us at info@plat4om.com and join our channel on Telegram at Plat4om. Finally, don't forget to subscribe to OUR YOUTUBE CHANNEL.