According to Nollywood Actress Victoria Inyama, 70% of Labour Party's Peter Obi's followers are "Zombidient" and "Obidiots"
The movie star made this known while reacting to a post shared on Instagram by popular On-Air personality, Daddy Freeze.
On August 31, 2022, Daddy Freeze posted on his Instagram page and divided the supporter base of the presidential candidate into three groups.
"Peter Obi supporters can be classified into 3 main groups: 1: Obidients: Amazing guys who understand his philosophy and support him passionately. 2: Zombidients: These ones just dey follow Obi cluelessly with their eyes closed as the name suggests," he wrote.
"3: Obidiots: A coagulation of Louts and touts lurking online and offline, ready to jump and attack anyone who doesn't support Obi. Which of these do you fall into? ~FRZ."
Inyama then took to the comment section of the post where she blasted the supporters of the politician.
"Number 2 and 3 are major 70% Ask what they are supporting him for and no clue 😂😂😂😂," she wrote.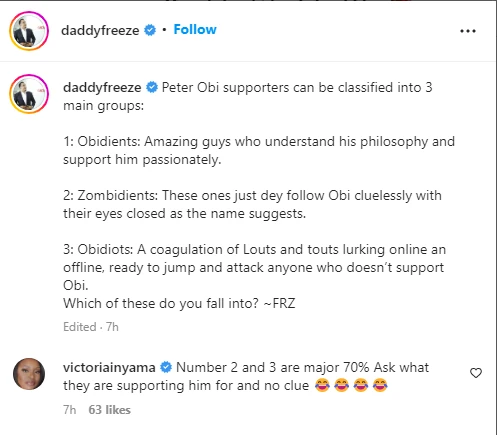 Many people have been supportive of Obi's candidacy, notably some of your favorite celebrities.
Since the election campaign got underway, a number of Nigerian celebrities have spoken out on their preferences as well as the engagement of the general public in the upcoming elections.
While Majority of youths and celebrities are behind the Labour Party presidential candidate, a few celebrities are on the opposition side.
One of those celebrities is actor Zack Orji took to his social media July 30th to drum support for the APC presidential candidate, Tinubu.
This was further met with obvious surprised reactions from Nigerians, who thought the actor would be for Obi.
For your daily dose of tech, lifestyle, and trending content, make sure to follow Plat4om on Twitter @Plat4omLive, on Instagram @Plat4om, on LinkedIn at Plat4om, and on Facebook at Plat4om. You can also email us at info@plat4om.com and join our channel on Telegram at Plat4om. Finally, don't forget to subscribe to OUR YOUTUBE CHANNEL.