Twitter is relaunching the Blue subscription and its new prices shows that iPhone and other iOS users would be paying more than others.
we're relaunching @TwitterBlue on Monday – subscribe on web for $8/month or on iOS for $11/month to get access to subscriber-only features, including the blue checkmark 🧵 pic.twitter.com/DvvsLoSO50

— Twitter (@Twitter) December 10, 2022
While the social media company has not come out to say so, the higher pricing could be because of the 30% commission it has to pay to Apple for using the in-app purchase tool for the subscription feature. Meanwhile, Android users can use the subscription that they purchased on web on their devices too.
Also read:
–Twitter Character Limit Is Going Up To 4000
–Nigerian Furniture E-Commerce Startup Taeillo Raises $2.5M
–Microsoft Acquires 4% Of London Stock Exchange.
The new Twitter Blue will still come with verification check but will include a physical review process. Likely, to keep mischief makers in check after the Eli Lilly debacle and the mass trolling of Elon Musk.
In addition to the extra verification step, Twitter will finally get rid of the 'Official' tag that we have been seeing in favour of the check badge colour code. New businesses who are just getting the badge will have to wait for their special gold badge but businesses who already have a relationship with the platform will get their upgrade automatically.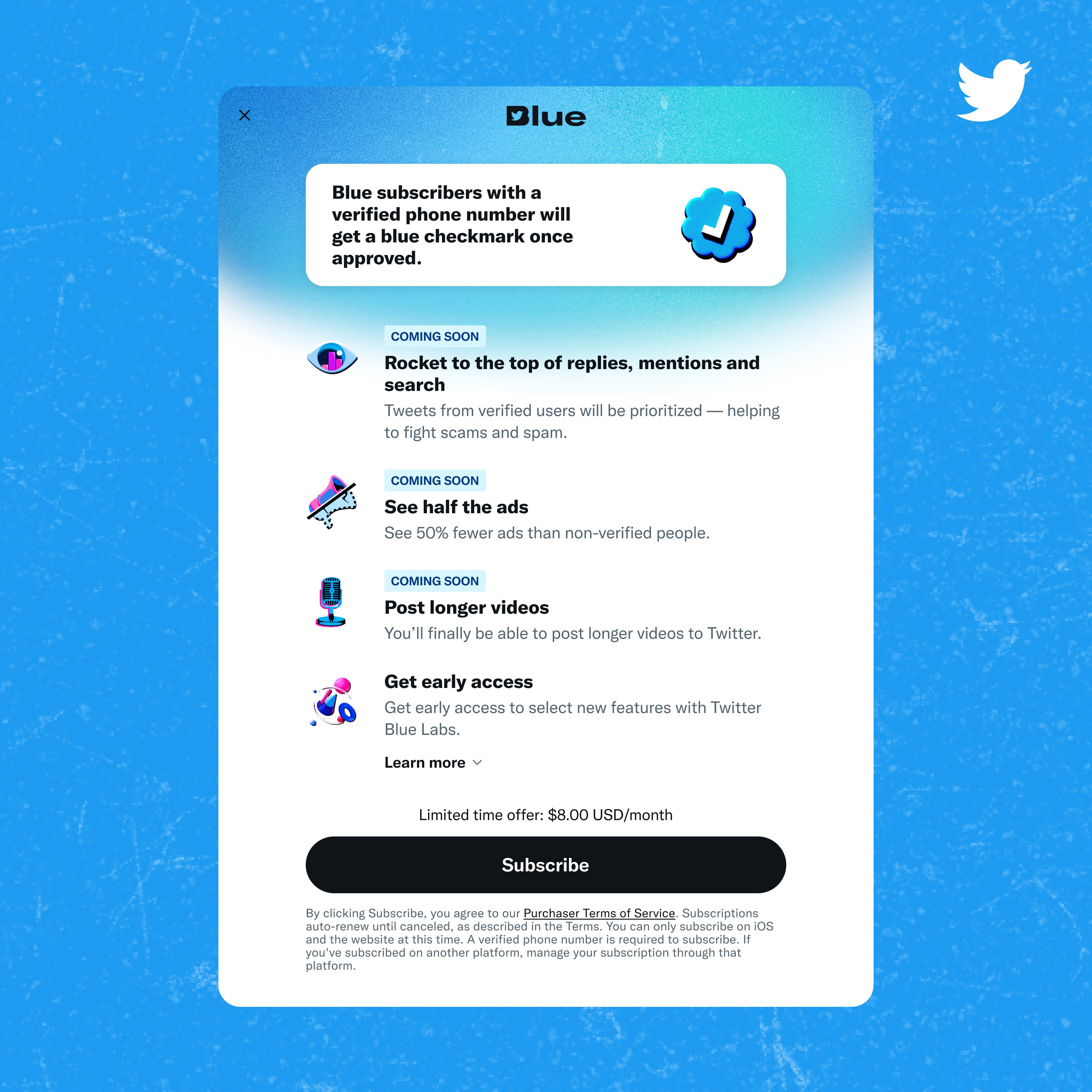 Twitter Blue will also come with edit feature, ability to upload 1080p videos and access to reader mode. Their tweets will also receive VIP treatment like being pushed to the top of replies and they will see reduced ads in search and mentions.
For your daily dose of tech, lifestyle, and trending content, make sure to follow Plat4om on Twitter @Plat4omLive, on Instagram @Plat4om, on LinkedIn at Plat4om, and on Facebook at Plat4om. You can also email us at info@plat4om.com and join our channel on Telegram at Plat4om. Finally, don't forget to subscribe to OUR YOUTUBE CHANNEL.