American rapper Quavo has reportedly taken back the Bentley he bought for his ex-girlfriend and rapper Saweetie after she annouced their breakup on Twitter.
Quavo had "gifted" his girlfriend at the time a white custom made luxury Bentley ride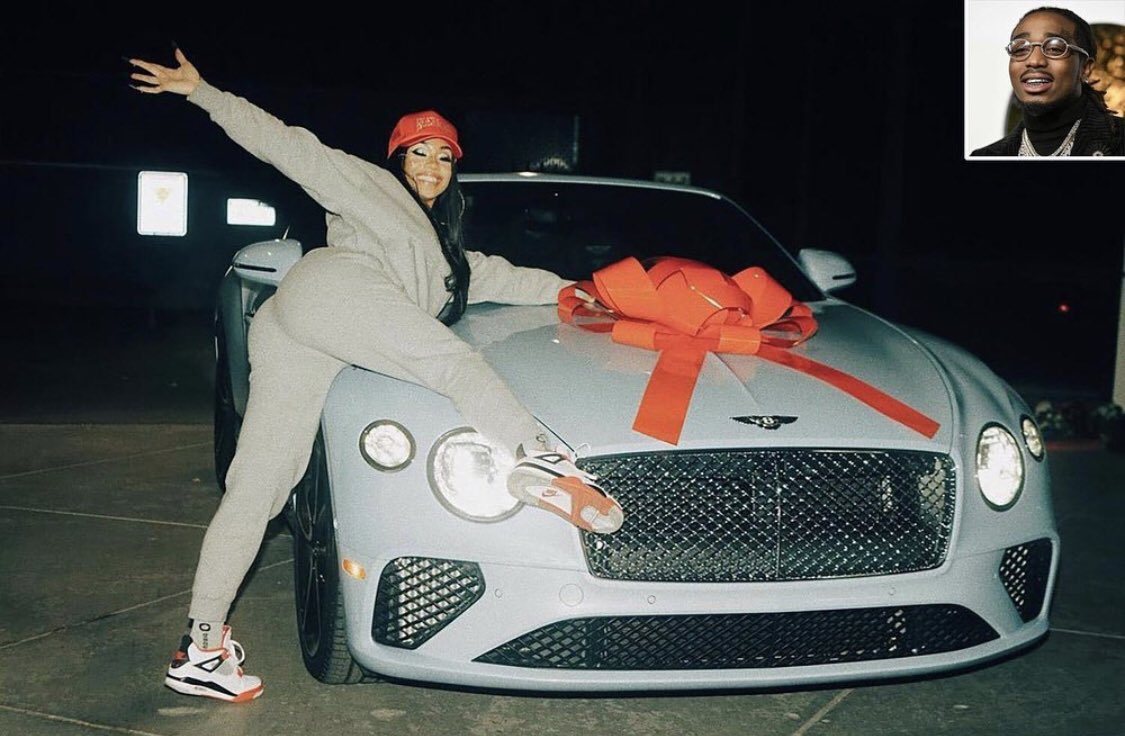 MTO News spoke to a person close to the Migos star who said that Quavo had taken back the 2021 Bentley convertible.
The source who is close to Quavo while confirming and stated: "Quavo is not a dummy – the Bentley was not in their name."
The source claims the Bentley was "leased" in Quavo's name. The Migos rapper had a contract with the dealer, that if he could end the rental contract early for a fee, the dealer would repossess the car and let him out of the contract.
According to his friend, that's exactly what Quavo did.
"He's not being petty or anything, but she's on Twitter and talking s**t. So he took the car back." the insider finishes.
Saweetie, 27, on Friday, March 19th, had announced "I'm single" on Twitter, going public with the breakup.
The "ICY GRL" rapper real name Diamonté Harper also added she'd "emotionally checked out a long time ago" and is "excited for this new chapter of elevation".
Quavo, real name Quavious Marshall responded to Saweetie announcement without directly naming her few hours after.
"I know you want to make this into a show so I'll play my part just this one time," he wrote on Twitter. "I don't normally put my business out there, especially my personal life, i feel the need to address this so there are no false narratives."
He added: "I had love for you and disappointed you did all that. You are not the woman I thought you were. I wish you nothing but the best"
Saweetie replied with a "take care".
Check out reactions to the Quavo-Saweetie saga
Saweetie said take care, Quavo read take car 😭😭😭

— HAA 🍯 (@harrietarthur_x) March 20, 2021
saweetie: "take care"

Quavo: "bet, imma need that Bentley back" pic.twitter.com/2HbZk8hqS4

— Mike "I am the prize" Jenkins (@skinny_que) March 20, 2021
Quavo: Lord F, I have sinned, how do I make atonement for my sins.

Future: For starters, recall the Bentley pic.twitter.com/xPR33YyEHg

— Man of Letters. (@Letter_to_Jack) March 20, 2021
"I'm disappointed at quavo for collecting his Bentley back from saweetie"

All the way from idumota?

— Fabian Jr🦅⚡️ (@fabianjnr5) March 20, 2021
I love the fact Quavo collected his Bentley back, Saweetie should soar higher with her barefoot.

— Daniel x💉 won??? (@chi_mobii) March 20, 2021
Quavo took back his bentley

Stingy men association : pic.twitter.com/ep0KKDkdA9

— Travis kay️️🍥 (@kutlwano_mekgw) March 21, 2021
For your daily dose of tech, lifestyle, and trending content, make sure to follow Plat4om on Twitter @Plat4omLive, on Instagram @Plat4om, on LinkedIn at Plat4om, and on Facebook at Plat4om. You can also email us at info@plat4om.com and join our channel on Telegram at Plat4om. Finally, don't forget to subscribe to our YouTube channel HERE<