Elon Musk revealed that his new social media company succeeding in reducing hate speech impressions by cutting down on number of tweets allowed per day. He shared a stat that showed that offensive tweets were now lower than before his arrival at the company.
During the first few days of the billionaire's take over of the platform, it had seen an astronomical rise in hate speech impressions. The number even reached a staggering 10 million impressions in a day towards the end of October 2022.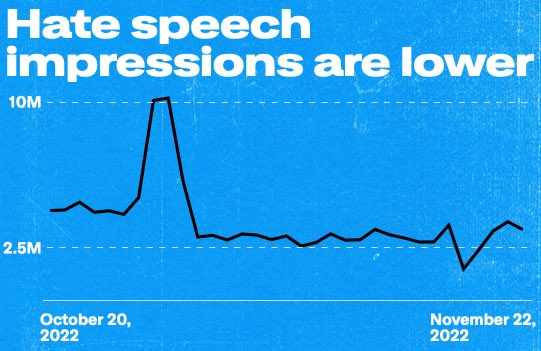 The spike was likely caused by fake accounts trying to prove a point that Twitter needed moderation and Musk said so himself. "I have half a mind to wag my finger at the 1500 accounts that caused the spike, but I shall forebear," the SpaceX boss said with a rolling eye emoji.
Also read:
–Naira Redesign; See How Your Favorite Celebrities Are Reacting To The New Naira Note
–Tesla Full Self-Driving Beta In Now Available
–Streaming Farms: Chart Manipulation Rocks Nigerian Music Scene.
For now it is not clear just how many tweets are allowed per day but it is likely that many users may not notice. Musk claimed to have used the limit of a speed typist on drugs as a benchmark.
It is the latest change that the new Twitter is bringing. Elon Musk also said that users in some locations away from the US may notice improvements in speed as well.
In related news, the social media company also launched a slew of performance advertising solutions that is aimed at driving results ad relevance. Although, this tools have likely been in the workings for some time, even before Musk took over the reins.
Advertisers, who are the main revenue sources for the company at this time, now get features like Website Conversions Optimization (WCO), Dynamic Product Ads (DPA), and Collection Ads.
For your daily dose of tech, lifestyle, and trending content, make sure to follow Plat4om on Twitter @Plat4omLive, on Instagram @Plat4om, on LinkedIn at Plat4om, and on Facebook at Plat4om. You can also email us at info@plat4om.com and join our channel on Telegram at Plat4om. Finally, don't forget to subscribe to OUR YOUTUBE CHANNEL.