Elon Musk could be getting things right at Twitter after he shared slides from his company talk which included data showing that new user signups were at an all-time high. According to the infographic, the platform was seeing 2 million new signups per day, including a 66% increase in one week compared to the same duration in 2021.
In addition, there is also a significant spike in usage in the days leading up to the November 15, 2022. Users were spending an average of 8 billion minutes daily on the platform.
It is important to note that new signups could mean old users creating multiple accounts as there is no confirmation of manually verifying these new users until they apply for the premium Twitter Blue. Regardless, the numbers mean good business for the company, which currently relies on ad revenue.
Also, another data slide shows that the platform has now crossed the 250 million mark of daily active users. All the while, it has managed to reduce impressions of hate speech to levels it reached in 2021.
Also read:
–Amazon Drops Fourth As Walmart, Others, Top Black Friday Searches
–Another Crypto Company Confirms $2 Billion Debt
–487 Million WhatsApp Phone Numbers Leak On Dark Web.
As a booster of confidence, Musk shared that the new policy to ban impersonation accounts that don't declare themselves as such without warning seems to be working. Although, there were less impersonation accounts by this time last year as the infographic shows.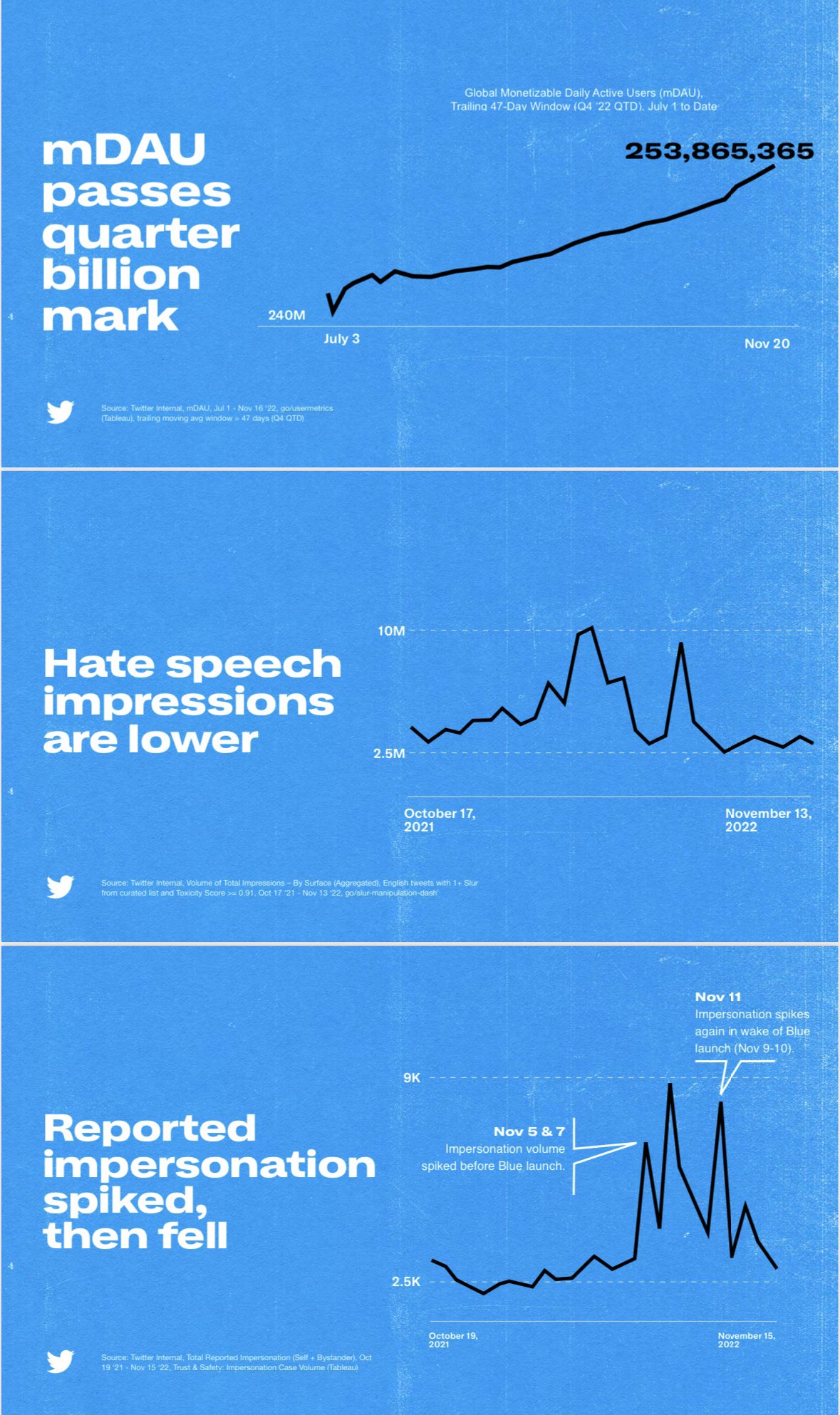 Following his seeming achievement of stabilising Twitter and bringing it back from the near-ruin that his takeover had threatened to bring, the tech billionaire shared his ideas for the future of the platform.
Tagged Twitter 2.0 (The Everything App), Musk says that the coming app will improve advertisement to make it entertaining. He also mentioned encrypted DMs, longform tweets, payments, video and the relaunch of Blue Verified.
It is not yet clear what he means by video as the platform already supports video posts, likely, he could bring back the Fleets feature or a tab on the home timeline that shows only video posts. This feature will not be a surprise as we have seen others like Facebook, Instagram, Snapchat, and YouTube do it to compete with the viral fame of TikTok.
As for payments, he may have been talking about the ability to carryout financial transactions on the platform. For now, we can only sit back and wait for what Musk's new Twitter will offer. However, one thing is glaring, the #RIPTwitter hashtags may have been a bit too hasty. See also: Elon Musk Could Make Smartphone To Rival iPhone And Android.
For your daily dose of tech, lifestyle, and trending content, make sure to follow Plat4om on Twitter @Plat4omLive, on Instagram @Plat4om, on LinkedIn at Plat4om, and on Facebook at Plat4om. You can also email us at info@plat4om.com and join our channel on Telegram at Plat4om. Finally, don't forget to subscribe to OUR YOUTUBE CHANNEL.