Twitter character limit is going from its current 280 limit to 4000, according to screenshots of an Elon Musk response that has been going around. The screenshot shows the new Twitter boss agreeing with a user who asked if the platform was really looking to increase the characters limit.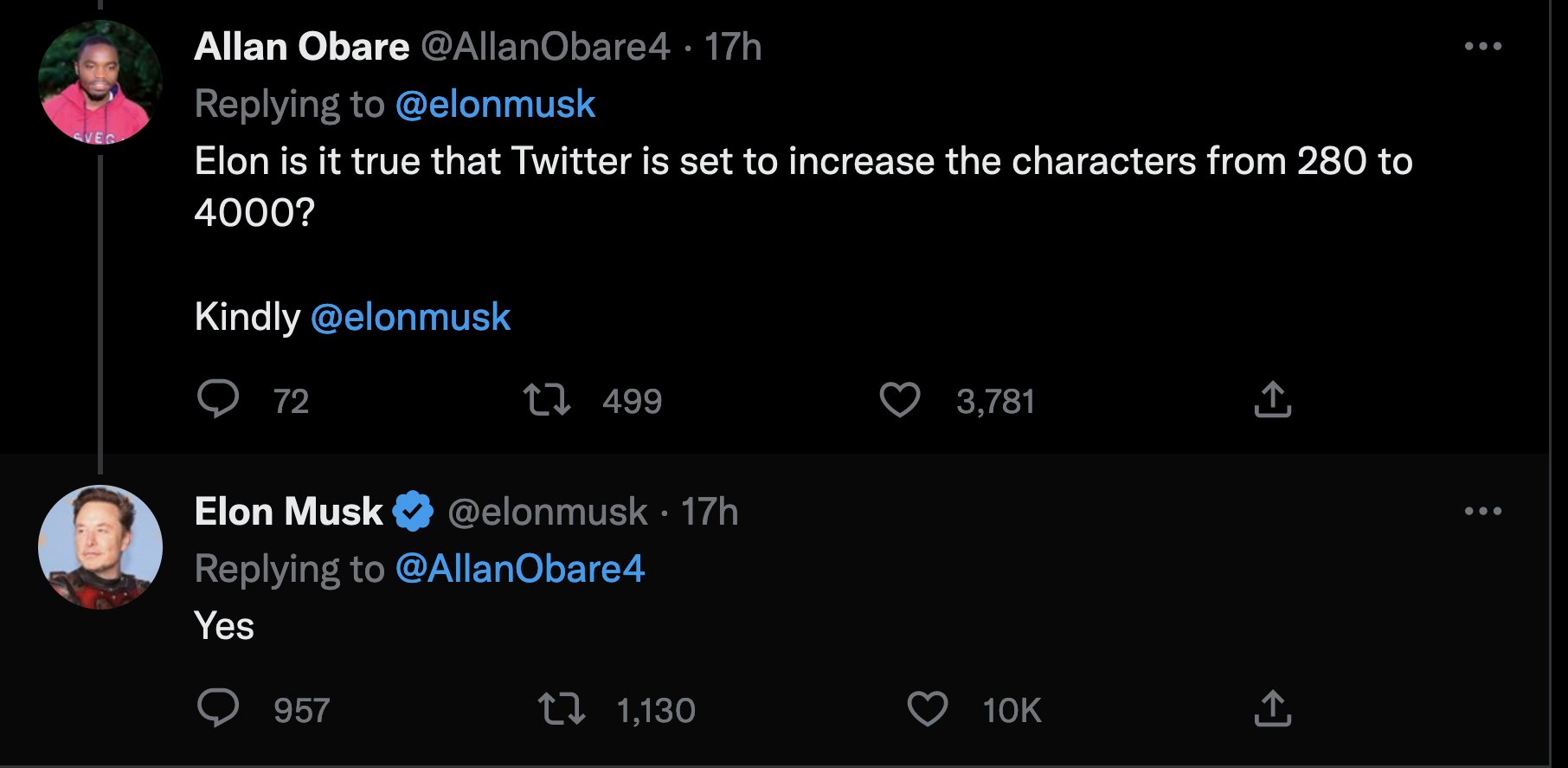 If there is something we have come to expect from the new Twitter, it is change. However, the 4,000 characters limit still comes as a surprise. Back in 2018, users have been making do with the former 140-character limit, ensuring that they pass their thoughts on as briefly as possible. Then, the former administration decided to double the character limit to 280.
Also read:
–Spotify And Apple Music Pull Down R. Kelly 2022 Album 'I Admit It'
–Microsoft Buys Startup Designing High-Speed Data Transmitting Cables
–The 14 Best Video Games Of 2022.
With the support for threads, which allows you string multiple tweets into one continuous read, we really didn't see the need for increasing the limit. Although, there could be some benefits to Twitter character limit going up to 4,000.
For example, it enables others see your long-form pieces in one place instead of coming across fragments of them. Yet, one disadvantage of this is that when you write long tweets, others will have to click a 'read more' or 'see more' option to see the rest because there is no way the platform can cramp 4000 characters in the small space on the TL. And, clicking 'read more' is still nearly the same as the current 'show thread' feature we now have.
Another advantage of increasing the character limit for tweets is that they could begin appearing more on Google search because of their length.
As a microblogging platform focused on individual journalism, Twitter has always been looking for ways to allow longer content. Just a few months ago, it had revealed that it is working on a Notes feature to allow users writer longform tweets. It is not clear what will become of this feature if the 4000 character limit is applied.
For your daily dose of tech, lifestyle, and trending content, make sure to follow Plat4om on Twitter @Plat4omLive, on Instagram @Plat4om, on LinkedIn at Plat4om, and on Facebook at Plat4om. You can also email us at info@plat4om.com and join our channel on Telegram at Plat4om. Finally, don't forget to subscribe to OUR YOUTUBE CHANNEL.