Leaks of the soon to be unveiled Surface Pro 8 with 120Hz and thunderbolt has surfaced ahead of Microsoft's September 23rd hardware event. The hardware event will see some upgrades to the current line of GO, Pro, and Microsft tablets and laptops.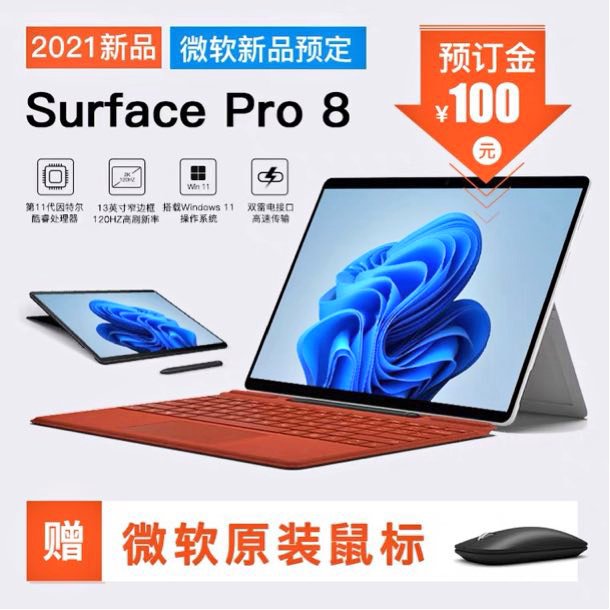 Twitter account Shadow leak shared a picture of the new Surface Pro 8 in Chinese, these show narrow bezels and the new Thunderbolt ports.  According to this leak, the new tablet will ship with Windows 11, a 13-inch 120Hz screen and replaceable SSD Hard drives.
The replaceable SSDs on the Surface Pro 8 now joins the host of the Pro X, Pro 7 and Surface Laptop 4 that has these feature already.
Microsoft has slated its Surface event for the 23rd of September this year. The Redmond-based company says it would talk about "devices and Windows 11."
The company has sent invites to media houses for what's next for Microsoft and its Surface platform. Its invite page shows a teaser picture of a Surface tablet. Probably the Surface Pro 8, that's if Microsoft goes by that name.
The Fall hardware event will be virtual. Cases of the Delta variant of COVID-19 continues to surge in the United States. There have been reports of a Surface Duo successor flying around, the Duo 2 version.
According to reports, the biggest changes happening are; the cameras, 5G support and Qualcomm's Snapdragon 888 processor. Even an NFC chip for contactless payment has been rumoured for the Surface Duo 2.
Just maybe we might see the Successor to the Surface Book 3. Also, another talk of the day would be Windows 11, Microsoft will be releasing it as a free upgrade on October 5th.
Meanwhile, It's Microsoft turn to share its most innovative hardware products for the year, Apple just had theirs. The Cupertino company released the iPhone 13, Series watch 7 and new iPad.
For your daily dose of tech, lifestyle, and trending content, make sure to follow Plat4om on Twitter @Plat4omLive, on Instagram @Plat4om, on LinkedIn at Plat4om, and on Facebook at Plat4om. You can also email us at info@plat4om.com and join our channel on Telegram at Plat4om. Finally, don't forget to subscribe to OUR YOUTUBE CHANNEL.