Nigerian comedian Abovi Ugboma better known as Bovi had a curious choice of outfit for The 14th Edition of the Headies 2021. The comedian who was co-host of the award ceremony alongside actress Nancy Isime showed up with the now-infamous blood-stained Nigerian flag from the shooting at the Lekki Toll Gate imprinted boldly on his shirt.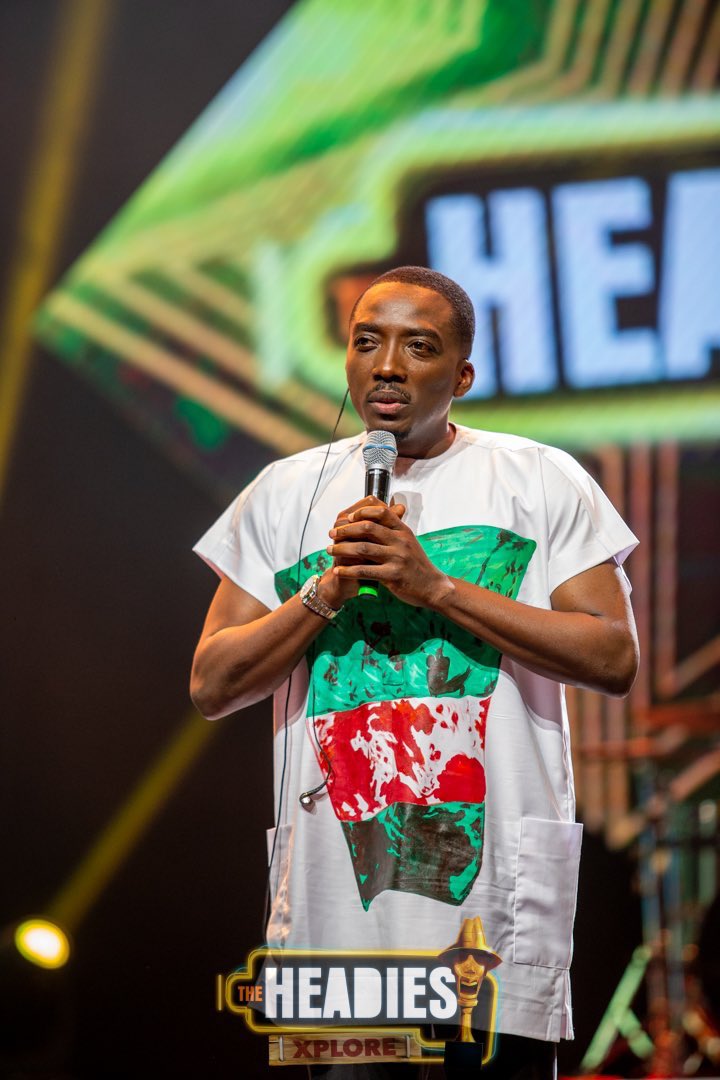 Although it was merely a shirt, the shirt spoke volumes as it strikingly reminded viewers of the #EndSARS protests which rocked the nation in October 2020 and its tragic end at the Lekki Toll Gate.
Meanwhile, the choice of outfit was greeted with mixed reactions. While some feared Bovi might get into trouble with the shirt, others commended the comedian, hailing him for showing solidarity with the #EndSARS campaign.
Check out some of the reactions below
#14thHeadies #Bovi #LekkiMassacre

This is the Highlight of tonight's award no 🧢
May God continue to protect us from blood thirsty demons in human form, 🙏 pic.twitter.com/lNhKy3Eg6E

— Jenny Koko (@iam_jennykoko) February 21, 2021
A Thousand word!!!#bovi#EndSARS pic.twitter.com/v9CLMmVX6J

— Uru di ya (@DorisOti) February 22, 2021
This piece got me than all the Awards last night… He Rep🙌🏽💯☑️💥🔥 #Bovi #Wizkid #Tinubu #Rochas #NairaMarley pic.twitter.com/gJggC7jbbS

— Akanbi Elijah (@OgundipeElijah2) February 22, 2021
Great work done by Bovi #Bovi today is my day this massage loud #EndSARS #Wizkid #EndBadGovernanceInNigeria pic.twitter.com/nR7ij4VBq7

— kingbenard (@benuepikin95) February 22, 2021
BOVI didn't wear any Nigeria flag. Nigeria flag is in landscape form and not in portrait form according to what he wore, Nigeria flag is not a shirt that has pocket, Nigeria flag does not have red color. Get sense. Do not fuel what is not. #Bovi is just wearing a shirt

— moshood_salam (@salam_moshood) February 22, 2021
#14thHeadies
This picture worth a lifetime. The best. The message is so strong #Bovi pic.twitter.com/mB4mfvDRP0

— REAL (@i_am_skedo) February 21, 2021
#14thHeadies wasn't really heading any where until #bovi came up stage with this. pic.twitter.com/KaDQDKnRfH

— Oghene Oghene (@Oghenevwede7) February 21, 2021
Pass the message in any given opportunity #14thHeadies #Headies2021 #HomeWithHeadies #bovi #EndSARS pic.twitter.com/0wwtCjELet

— Mr Lucky Chukz (@accesslucky) February 22, 2021
Any complaints and uproar from the gaslighting gang?

Run it in their faces, let them suffocate from it…well never forget 20.10.20 #EndSARS #Bovi pic.twitter.com/6n9lr5jvzN

— Biglee from Lee clan (@dat_biglee411) February 22, 2021
For your daily dose of tech, lifestyle, and trending content, make sure to follow Plat4om on Twitter @Plat4omLive, on Instagram @Plat4om, on LinkedIn at Plat4om, and on Facebook at Plat4om. You can also email us at info@plat4om.com and join our channel on Telegram at Plat4om. Finally, don't forget to subscribe to our YouTube channel HERE<