Reality star and beauty mogul, Kim Kardashian-West has clapped back at critics for saying a painting of North West she posted isn't truly hers.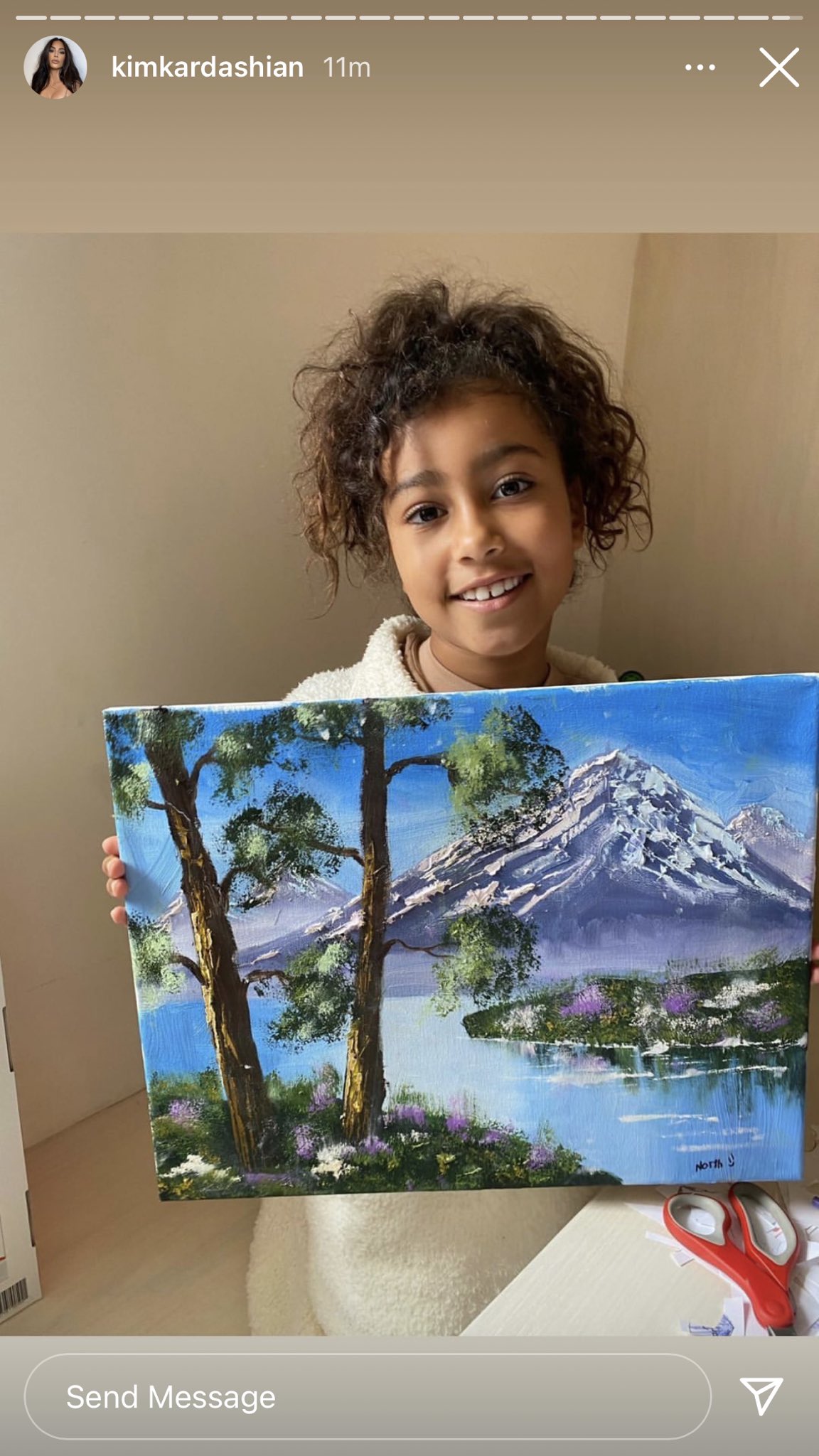 Kim Kardashian had taken to her Instagram to show off a colorful landscape piece of painting crediting it to her 7 years old first daughter, North West.
She captioned it "My little artist North"
However many social media users could not help expressing disbelief that the 7-year-old daughter of Kanye and Kim painted the artwork all by herself. Many also pointed at the strong resemblance to renowned American artist, Bob Ross.
"I'm supposed to go but i can't stop thinking about how north west did not paint this," wrote one Twitter user, whose message was later shared on Kardashian West's Instagram Story with the username blocked.
"DON'T PLAY WITH ME WHEN IT COMES TO MY CHILDREN!!!" Kardashian West wrote in a lengthy post. "My daughter and her best friend have been taking a serious oil painting class where their talents and creativity are being encouraged and nurtured."
"North worked incredibly hard on her painting with took several weeks to complete," she continued. "As a proud mom, I wanted to share her work with everyone."
"How dare you see children doing awesome things and then try to accuse them of NOT being awesome?" Kardashian West wrote. "Please stop embarrassing yourselves with the negativity and allow every child to be GREAT!"
She also went on to share a similar post that her friend's daughter had done.
"They go to the same art class!!!" Kardashian West wrote. In another post, "Shout out to all the proud moms out there that love to show their baby's masterpieces." she wrote.
The mum of four also shared paintings of Kanye's artwork when he was a child. "Throwback to some of her dad's artwork that he did when he was a kid," she captioned a series of sketches.
A close friend of the family, Tracy Romulus whose daughter Ryan is close friends with North also defended the painting. According to her, the girls are taking the same art class together and are learning "Oil technique"
"They spend weeks at a time on a single painting and are incredibly proud of themselves once they complete a project," she wrote on her Instagram Story. "They are following a curriculum but the works are original, starting from a blank canvas and each child's interpretation."
Kim Kardashian shares four children, daughters North and Chicago, 3, and sons Saint, 5, and Psalm, 21 months, with husband Kanye West.
For your daily dose of tech, lifestyle, and trending content, make sure to follow Plat4om on Twitter @Plat4omLive, on Instagram @Plat4om, on LinkedIn at Plat4om, and on Facebook at Plat4om. You can also email us at info@plat4om.com and join our channel on Telegram at Plat4om. Finally, don't forget to subscribe to our YouTube channel HERE<