The Pixel 6 and Pixel 6 Pro will be launching officially on October 19, 2021; Google has confirmed after it released Android 12. Google's Pixel Fall Launch event will be virtual starting exactly at 10 AM Pacific Time and 1 PM Eastern Time on Tuesday, October 19 2021.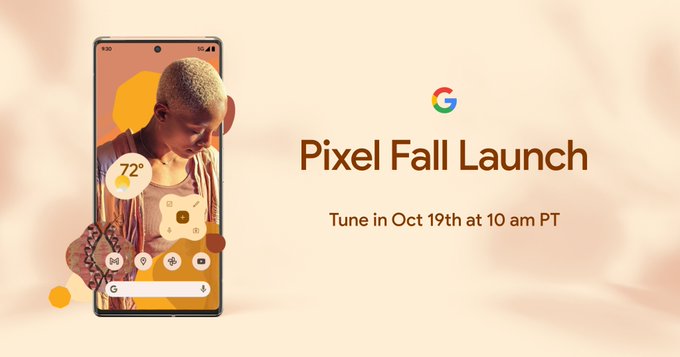 Its Pixel 6 and 6 Pro smartphones would be direct competition to the flagships from Samsung's Galaxy S21 Ultra and Apple's iPhone 13. This is the first Google will be shipping its pixel phone with an entirely made in-house Tensor processor and a triple camera system.
This live stream will be available on the company's Pixel Fall Launch landing page. The tech giant is taking after Apple's and Microsoft's previous methods of virtual launches.
We might just see a Foldable from Google during its Pixel 6 and 6 Pro event. The first next-generation smartphone coming from Google is known as the "Passport". Definitely rings a bell, yes the blackberry smartphone name.
Reports from reliable leaker Evans Blass, also known as @evleaks published the leak via his tweet account on September 20th 2021. He also mentioned the device was found in Google's next mobile operating system Android 12.1.
Leading the foldable market is Samsung's galaxy Z Fold 3 and Flip 3. Google will have to produce hardware that matches these smartphones in order to compete. One trending hardware feature is the high-end 120Hz screens available on the iPhone 13, Flip/Fold 3 and other flagship smartphones.
Google has finally released the first real-world pictures of its incoming Flagship Pixel 6. These pictures show smartphone usage in real life after it was first announced last month.
Over the months, Google has managed to hide the details of the smartphone, without it leaking. The Tech company finally shared the pictures on Instagram on its official page.
Meanwhile, Google teased the Pixel 6 and Pixel Pro last month, the tech company is positioning the phone to rival other Flagship phones.
Google also highlighted its own chip inside the new Pixel 6 phones. Generally called Tensor SoC, the tech giants haven't revealed all of the components of the phones. For instance, the new Titan M2 chip is used for security. Google has been developing the Tensor chip for four years now.
The Pixel 6 and 6 Pro phones are simple, elegant, and have a premium finish according to the renders by Google.
For your daily dose of tech, lifestyle, and trending content, make sure to follow Plat4om on Twitter @Plat4omLive; on Instagram @Plat4om; on LinkedIn at Plat4om; and on Facebook at Plat4om. You can also email us at info@plat4om.com; and join our channel on Telegram at Plat4om. Finally, don't forget to subscribe to OUR YOUTUBE CHANNEL.