—iQOO Neo 7 Racing Edition is expected to be launched in China on December 29, 2022.
—The device's specs include a Snapdragon 8+ Gen 1 cip, 50MP ISOCELL GN5 sensor, and more.
Vivo's iQOO is launching a Neo 7 Racing Edition, and the company, which touts to be like the BMW M Motorsport racing car of the smartphone world, is packing it with tasty specs and features.
While the regular version of the iQOO Neo 7 is expected to launch with a MediaTek Dimensity 9000+ chipset, the racing version is said to be coming with a Snapdragon 8+ Gen 1 SoC. It will also have better graphics thanks to the chip being the pro version. Of course, we will have to see how it fares against the vanilla variants to determine how special the device really is.
Its storage capacity is also higher with an offering of 512GB/16GB RAM, compared to the 512GB/12GB RAM of the regular version.
Also read:
–Meta Settles To Pay $700M Over Facebook Cambridge Analytica Scandal
–Four Companies Conducting The Weirdest Science Experiments
–The 12 Most Expensive Smartphones Of 2022.
As teased in the beginning, the iQOO Neo 7 uses a 50MP ISOCELL GN5 sensor as its main shooter, which is designed by Samsung. It is backed up by two additional sensors; an 8MP ultrawide lens and a 2MP macro snapper.
In the power sector, the smartphone packs a 5,000mAh battery with 120W fast charging support. Note that this is the same as its regular version, which can charge up to 50% in 9 minutes.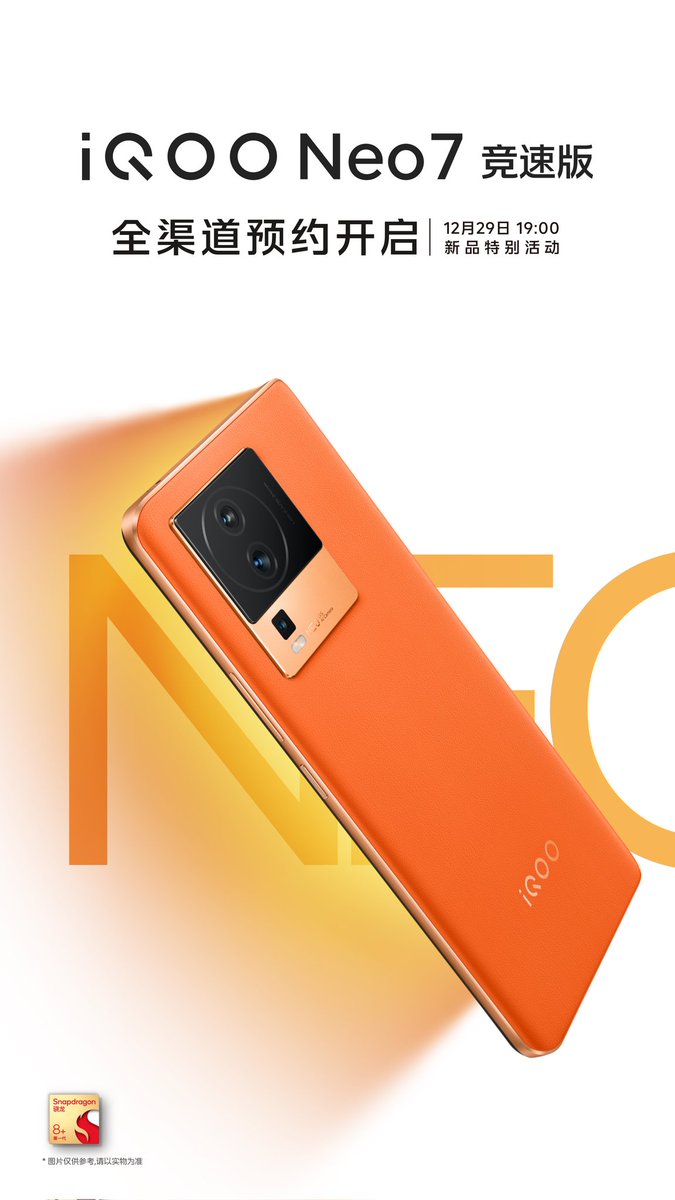 It is not clear if the device will be sold internationally but it will be launched in China on December 29, 2022. The smartphone will have three colours at launch; orange, black and blue.
GSMArena estimates that the iQOO Neo 7 will be priced at about $405 (NGN181,000) but we have not seen the price for the iQOO Neo 7 Racing Edition, it is expected to be pricier.
For your daily dose of tech, lifestyle, and trending content, make sure to follow Plat4om on Twitter @Plat4omLive, on Instagram @Plat4om, on LinkedIn at Plat4om, and on Facebook at Plat4om. You can also email us at info@plat4om.com and join our channel on Telegram at Plat4om. Finally, don't forget to subscribe to OUR YOUTUBE CHANNEL.