A Nigerian artist Wisekid may be pulling one of the most ingenious music scheming Nigerians have seen in a while by copy grammy award-winning afrobeats star, Wizkid.
Wisekid (bearing a strong resemblance to Wizkid) had uploaded his album "Lasgidi Made" on Apple Music. "Lasgidi Made" translates to "Made In Lagos", Wizkid's most recent album. The Wisekid also named all the songs on his "Lasgidi Made" album similar to Wizkid's. This caused him to rake in over 9.3 million streams.
He would probably have gone unnoticed for longer if he didn't come to Twitter to brag about his "wins" posting a screenshot of his streams on Apple Music and Amazon.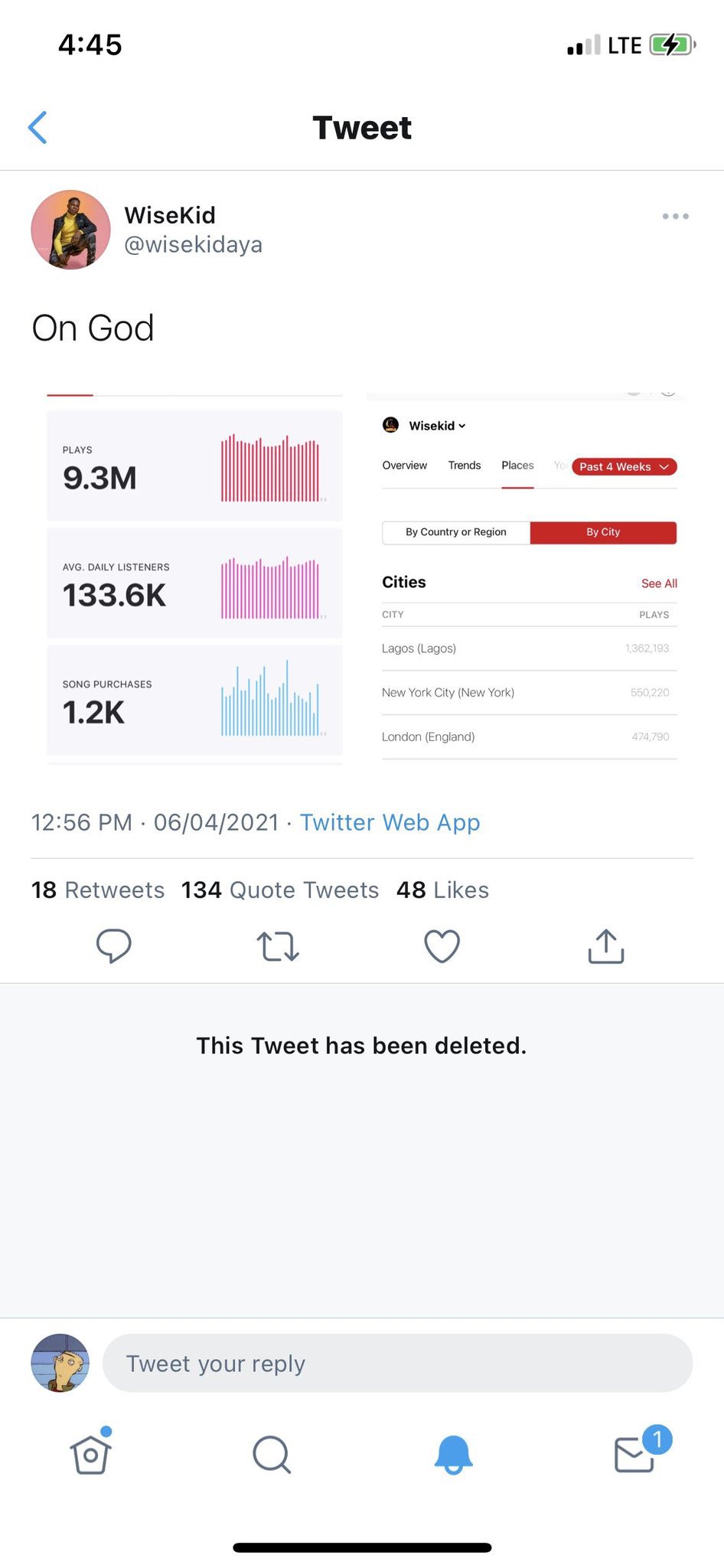 An Artist named Wisekid has been making N30 million monthly since October 2020 by copying Wizkid's music on Apple Music & Amazon.

He released an album and named it Lasgidi Made, then copied the names of Wizkid's songs & albums. Now he is getting a huge chunk of Wizkid's streams. pic.twitter.com/0KqgDe1oq6

— Africa Facts Zone (@AfricaFactsZone) April 6, 2021
A Twitter User, Chemical Brodar broke the news of the scheming writing that even after he'd played Wizkid's songs for 26 hours, Apple Music still split the streams between the Afrobeats superstar and Wisekid.
This is my Apple Music replay. I've listened to Wizkid for over 26hrs but Apple Music distributed it to Wizkid and "Wisekid". It's been going on since last year. pic.twitter.com/LZgMsixpFp

— Chemical Brother 👌 (@chemicalbrodar) April 6, 2021
While Wizkid himself is yet to react to the news, several Nigerians have taken to Twitter to call Wisekid.
WiseKid failed one cardinal rule, that's why he was caught: Don't talk while eating.

Because I don't know what level of village people syndrome will make a man who has struck illegal gold, to publicly announce his numbers on social media.

— Joey Akan (@JoeyAkan) April 6, 2021
Wizkid 's numbers still being so huge despite the Wisekid fellow trying to act "wise" is a clear indication that Made In Lagos is such an outstanding project and it's replay value is top notch. 💯👏🏼

— E (@iamOkon) April 7, 2021
Wizkid: "If you want make I ginger give me the kokoro…"

Wisekid: "If you want make I ginger give me the cock all raw…"

— Joey Akan (@JoeyAkan) April 6, 2021
Wisekid copied Wizkid's Made In Lagos album and named it "Lasgidi made".

This has to go down as the biggest music heist in history.

— Ibe (@meettheRichard) April 6, 2021
For your daily dose of tech, lifestyle, and trending content, make sure to follow Plat4om on Twitter @Plat4omLive, on Instagram @Plat4om, on LinkedIn at Plat4om, and on Facebook at Plat4om. You can also email us at info@plat4om.com and join our channel on Telegram at Plat4om. Finally, don't forget to subscribe to our YouTube channel HERE<