Summary:

Elon Musk has denied that he asked Twitter engineers to boost his tweets' relevance by giving them unprecedented boosts.
However, he did admit that there was a bug that briefly made replies to tweets as prominent as primary tweets, which has since been fixed.
Musk also acknowledged reports of complaints from Twitter users about his tweets dominating their "For You" tab, but he disputed that his content was being boosted beyond normal levels.
Elon Musk has denied making Twitter engineers make his Tweets more relevant by giving them unprecedented boosts. In a statement, the company CEO said that the several media reports were false.
However, Musk did concede that there was a bug that made replies to Tweets as prominent as primary Tweets themselves, but this has been fixed.
Several major media sources incorrectly reported that my Tweets were boosted above normal levels earlier this week.

A review of my Tweet likes & views over the past 6 months, especially as a ratio of followers, shows this to be false.

We did have a bug that briefly caused… https://t.co/nM3SgUfoM7

— Elon Musk (@elonmusk) February 17, 2023
Like Plat4om, several other technology-focused media outlets reported about complaints by Twitter users about how much of their "For You" tab was dominated by Elon Musk Tweets. In a cheeky admission, Musk even tweeted a meme of Twitter forcing his Tweets down users' throats.
His sudden change in stance, after clearly stating that engineers were fixing the algorithm, is not clear yet. Although, he did mention that his team had analysed his Tweets for the past six months to confirm if his content was being boosted or not. He added that one of his most famous Tweets, the one about buying Coca-Cola, was when he had 40 million fewer followers.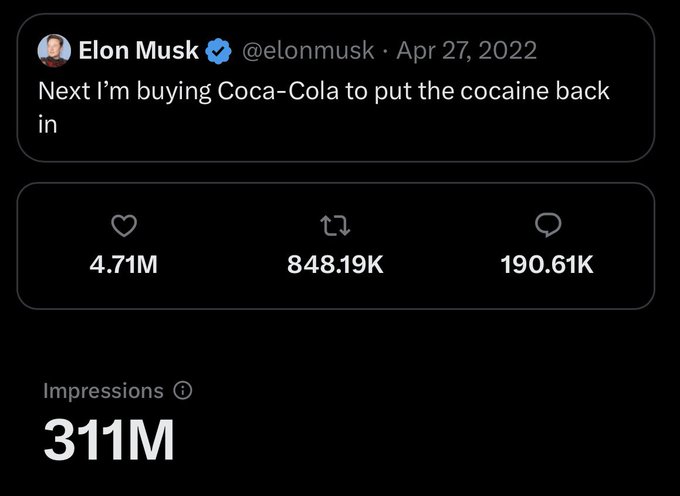 Despite his stance, there were too many independent reports about complaints of being force-fed the Twitter CEO's Tweets to be ignored.
For your daily dose of tech, lifestyle, and trending content, make sure to follow Plat4om on Twitter @Plat4omLive, on Instagram @Plat4om, on LinkedIn at Plat4om, and on Facebook at Plat4om. You can also email us at info@plat4om.com and join our channel on Telegram at Plat4om. Finally, don't forget to subscribe to OUR YOUTUBE CHANNEL.