Afrobeats to the world! This phrase has come to stay in the Music World, with Tems, Rema and Burna Boy shutting down the 2023 NBA All-Star Game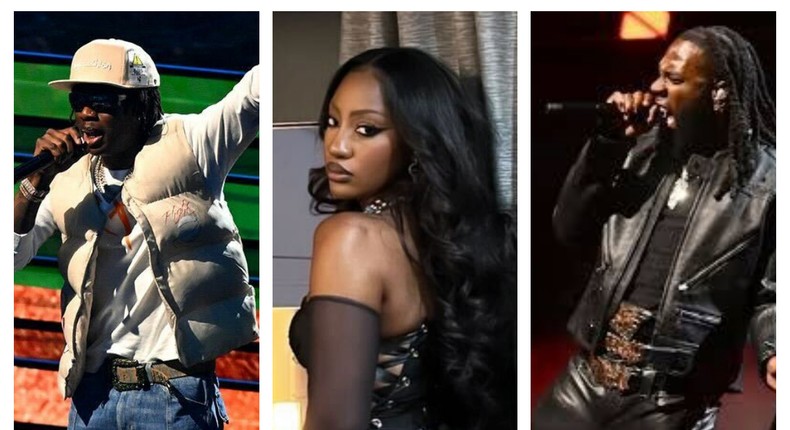 Watching the electrifying performances of Team Lebron and Team Giannis was not the only highlight of the Night.
Also Nigerian international sensations Burna Boy, Tems, and Rema also shared the spotlight
as they thrilled fans in what was an Afrobeats-themed performance.
Burna Boy was introduced by Toronto Raptor's Cameroonian star Pascal Siakam.
The Nigerian megastar opened the show with an exciting performance of 'Anybody' 
while being backed up by his captivating Outsiders Band.
Afterward, performing next was Rema who thrilled spectators with his global smash record 'Calm Down' 
before delivering an impressive rendition of his new single 'Holiday'.
Meanwhile Tems dazzled listeners with her class and stage presence as she performed her hit singles 'Free Mind' 
and 'Higher' before closing with 'Essence'.
Burna Boy then returned to close the show with a brilliant rendition of his smash hits 'YE' and 'Last Last'. A performance that further proved his mettle as one of the world's best-performing acts.
However, On what was an exciting night, the all-star match was won by Team Giannis by 184 points to Team Lebron's 175.
Surely, the performances of the Afrobeats Nigerian trio will linger in the memories of fans as they look forward to the 2024 NBA all-star game set to take place in Indianapolis.
For your daily dose of tech, lifestyle, and trending content, make sure to follow Plat4om on Twitter @Plat4omLive, on Instagram @Plat4om, on LinkedIn at Plat4om, and on Facebook at Plat4om. You can also email us at info@plat4om.com and join our channel on Telegram at Plat4om. Finally, don't forget to subscribe to OUR YOUTUBE CHANNEL.