Nollywood actress and singer, Adesua Etomi has just bagged a honorary doctorate degree from the University of Wolverhampton in the UK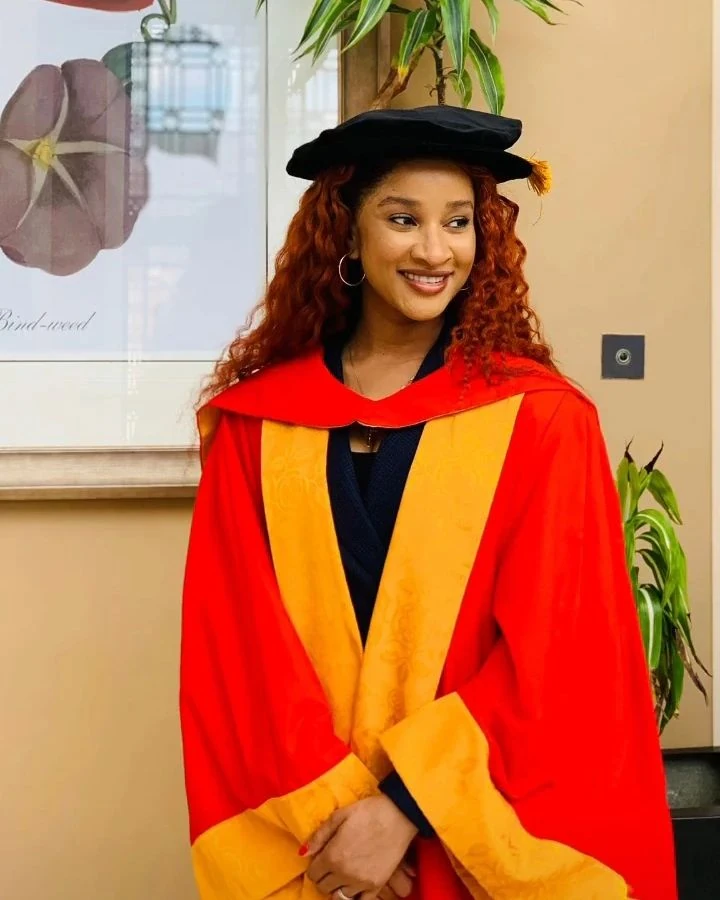 The movie star was awarded the honourary degree by the university for her laudable achievements in arts and culture.
Adesua who is an alumna of the university was awarded a doctorate degree in arts.
Present at the ceremony was her husband Banky W and their Son, Her friend and colleague Jemima Osunde and some other family members
The Nigerian movie star also bagged a degree in Drama and Performance from the prestigious university in 2009.
Adesua Etomi now joins the long list of Nigerian celebrities who have been honored with one degree or the other
Meanwhile recall that recently Nollywood stars Ireti Doyle and Bob-Manuel Udokwu received honorary doctorate degrees in arts and culture from the ISCG University in the Benin Republic.
Doyle posted photos of herself wearing an academic gown to her Instagram profile on Monday August 31st.
Doyle expressed gratitude to the Institut Superieur de Communication et de Gestion for bestowing the degree on her.
She also stated that her mother would be "proud" of her.
"I have envisaged many things for myself… and having put and still putting the work, I have a healthy expectation of receiving "accolades. But at no point did I see this coming," she wrote.
"Mummy would have been mighty proud! Dr Doyle has a nice ring to it. @icsg_university I'm highly honoured. Thank you.
In another post, Bob-Manuel, who she described as her "senior colleague," was also clad in the graduation outfit.
"Congratulations also to my senior colleague Dr. @bobmanueludokwuofficial Incidentally, he mentioned that "Living In Bondage", the movie that redefined and birthed the Nollywood we now have; was 30 years old to the day… We've come a mighty long way."
For your daily dose of tech, lifestyle, and trending content, make sure to follow Plat4om on Twitter @Plat4omLive, on Instagram @Plat4om, on LinkedIn at Plat4om, and on Facebook at Plat4om. You can also email us at info@plat4om.com and join our channel on Telegram at Plat4om. Finally, don't forget to subscribe to OUR YOUTUBE CHANNEL.